Investment Property Kitchen Renovation
Cost: $26,099
08-16-2021
The kitchen in many households is the heart of the home. Transforming your old kitchen can breathe new life into your home and just make your day-to-day living more enjoyable. In fact, the 2019 remodeling impact report shows that 74% of homeowners have a "greater desire to stay in their homes" after a kitchen remodel, 65% felt that they "experienced an increase in enjoyment" and 77% felt a "major sense of accomplishment". That said we think it is fair to say that a kitchen renovation could be just what you are looking for to increase your home enjoyment.
Why many people choose to renovate their kitchen:
Most kitchens are outdated and no longer reflect the lifestyles that people now live today.
Many people want open concept kitchens to make a connection with the rest of their main floor living spaces. (It helps keep an eye on the kids or to socialize with guests while preparing delicious snacks/meals in the kitchen, etc.)
Increase space and provide more accessibility within your kitchen area.
Not to mention we have so many more appliances in our kitchens today, most of us are desperate for more counter/storage space!
If you find that your kitchen layout is not working for you, Level Renovation can transform your kitchen to suit all of your needs.
Once you feel that a kitchen renovation is something you want, how should you prepare?
As with any renovation, we believe it is especially important before you dive into renovating to figure out what you want to change about your kitchen. That way when you connect with our renovation specialist, he can work with you to create the kitchen you have in your mind materialize into reality.
Ask yourself:
What is it that makes you want to change your kitchen?
Is it outdated?
Is the space not functional for your daily routines?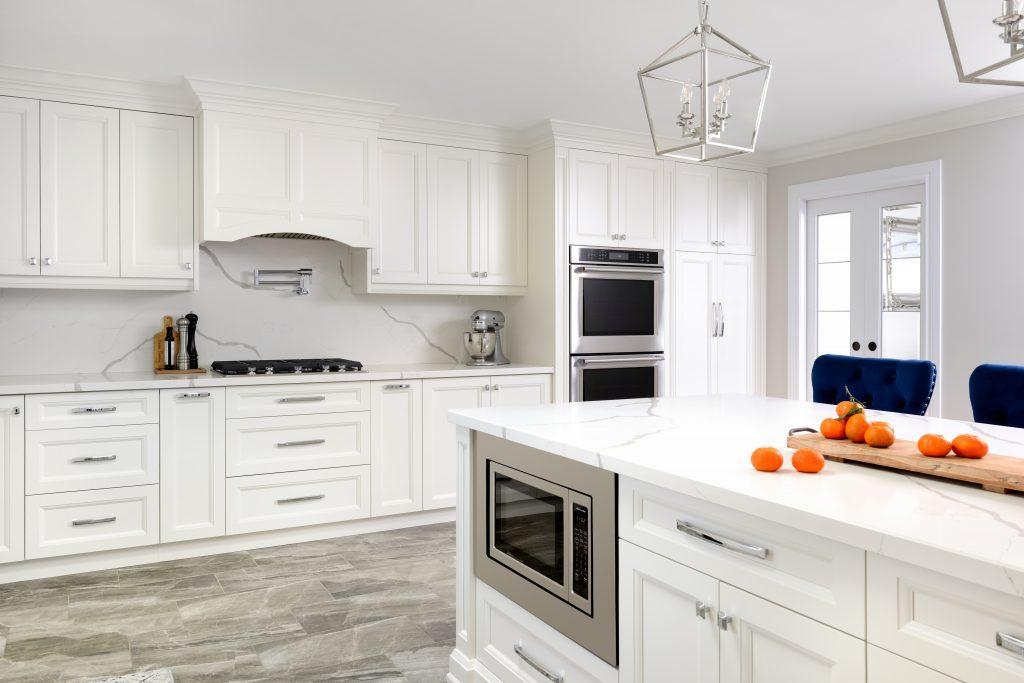 Make a list of what you want and/or what you do not want.
Once you know what you need from your kitchen space, you can go on your preferred search engine to look at different kitchen styles. Researching your design preference is important because most of us do have a preference for design styles (modern, rustic, contemporary, etc.) and even if you have a completely functional kitchen by the end of your renovation you may end up dreading it simply because the design style was overlooked.
But
If that does not fit into your schedule, that is okay! Level Renovation has many years of experience and we are ready to work with you to design a kitchen that will suit you and your home.
We will make sure that you are completely satisfied with your kitchen renovation. So that you will be able to enjoy your new kitchen for many years to come.
Are you planning on updating your home?
Book a consultation with one of our Renovation Experts.
Warranty
All renovation projects have a 1 year warranty from the contractors who performed the renovation.